JALUX Group's Materiality
(Key Sustainability Issues)
The corporate philosophy of the JALUX Group is "Contributing to Tomorrow—Your partner
in creating happiness and bringing a bright future to people, society and the environment."
In line with this philosophy, we aim to realize sustainable society
for the future and continually improve corporate value for the Group.
The world is currently facing a series of critical issues, from climate change-induced natural disasters to resource depletion, environmental pollution from waste products, food loss and waste, poverty, and human rights issues, while in Japan we are facing the additional issues of an aging and declining population. Global warming in particular is causing a range of problems, so decarbonization (carbon-free) and carbon neutrality are now recognized as urgent issues that are common throughout the world. But we have to solve these issues before we can realize sustainable society. We have therefore incorporated sustainability perspectives into the core of management across the JALUX Group as we work to create value, through our corporate activities, that helps solve society's issues and grow our company.
In March 2021, we identified the following materiality (key issues), from among this wide range of social issues, that we should prioritize as a Group from the long-term perspective. We will define specific activities and key performance indicators (KPIs) for each of these issues and build an effective framework for implementation, including the establishment of a Sustainability Promotion Committee (provisional name) to reflect the intentions of management. We will also ensure steady progress is made through ongoing implementation of the PDCA cycle.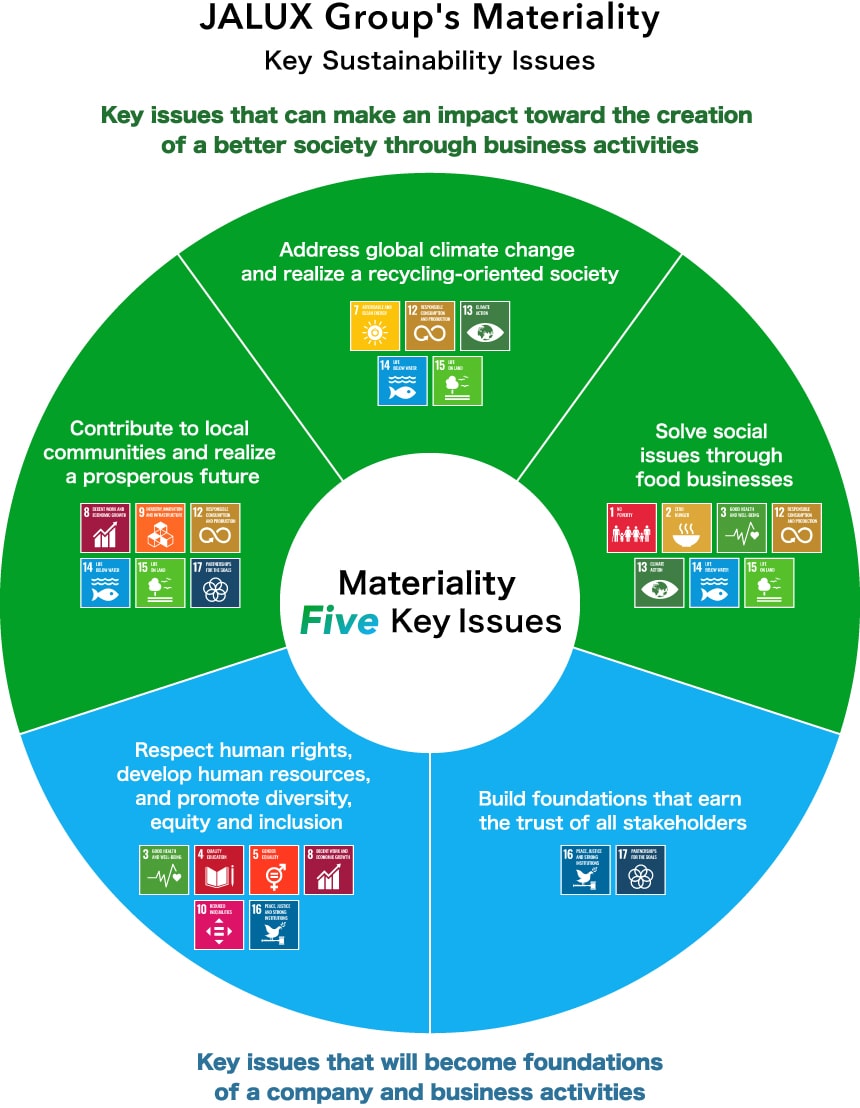 You can see it by scrolling sideways.
Materiality (Key Issues)
 
Address global
climate change and realize a
recycling-oriented society
Contribute to local communities
and realize a prosperous future
Solve social issues
through food businesses
Respect human rights,
develop human resources,
and promote diversity
and inclusion
Build foundations that earn
the trust of all stakeholders
 
To realize carbon neutrality by 2050 and recycling-oriented society across the entire supply chain as initiatives towards global environmental issues, we are working to collaborate with stakeholders in all business domains of the JALUX Group.
We aim to develop and grow together with local communities through expanding nationwide network, delivering regional products to more consumers than ever and helping create sustainable production systems throughout Japan.
Leveraging the strengths of the JALUX Group in developing businesses across the entire supply chain, from raw material procurement and production to distribution and sales, we endeavor to solve food-related social issues surrounding food safety, food loss and waste, recycling and upcycling, ethical consumption, and sustainable food supply in each phase.
We respect human rights in all our corporate activities. We also work to develop our diverse human resources to enable each of them to reach their full potential and create new value.
We strive to pursue transparency in corporate management and do our best to provide safe, high-quality products and services with sincerity backed by a commitment to compliance.
Related SDGs